SMS recieved from buyer 
If you are contacted by a buyer who cannot meet or speak to you, or who wants to proceed with a sale through a third party company, please be cautious. 

We always recommend you attempt to speak with the buyer over the phone and plan an inspection. 
If you are unsure whether message is a scam, please phone our Customer Service Team on 13 SALE (13 72 53) for advice or send an email to safety@carsales.com.au 
If you are engaged in any ongoing correspondence with a suspicious seller we urge you to exercise caution; do not provide any personal or financial information or part with any money in advance of taking possession of the goods.

SMS scams involve text messages requesting your personal information or asking you to click on links or email an address. Scammers will often disguise themselves as potential buyers, sellers or a company such as 'WEBSMS'. Please note carsales will not forward enquiries in this manner. It's important to remember that carsales will never ask you for your login details, like your password, email address, or credit card number via SMS.
How to avoid these scams
Always check to see who is sending the message – if you can't verify the sender then ignore the SMS.
Avoid clicking on any links in an SMS that ask you to log in to your account, instead go direct to the website and follow the links to log in.
If the SMS looks suspicious and includes an email address, do not email that address.
Report it to us. If you receive a suspicious SMS, please let us know.
Here is a recent example of an SMS scam below.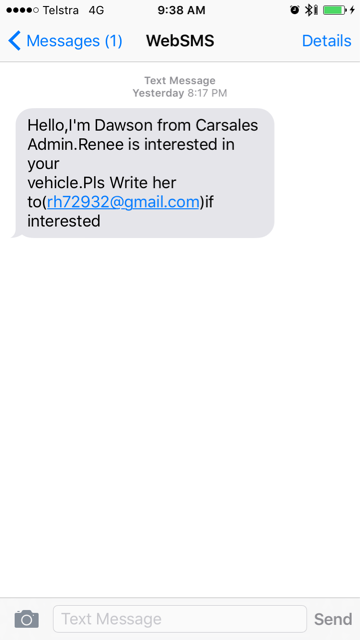 If you think you have seen a scam or have been scammed by a buyer or seller you can contact the Australian Competition and Consumer Affairs Commission: 
Our Safer Buying & Selling section also contains information regarding scams: http://helpcentre.carsales.com.au/