At carsales, we want to make sure you get the most out of your ad and that it is optimised to effectively sell your car. We've put together a list of things you can do that may improve your ad performance to help sell your car faster and for the best price.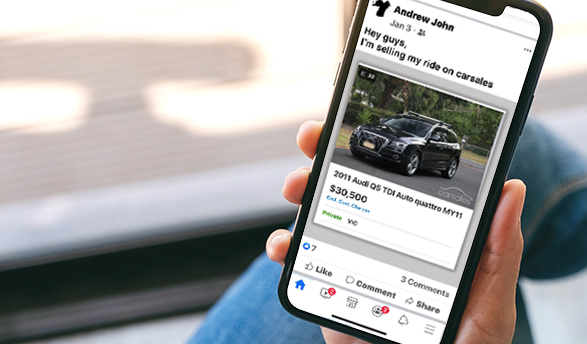 The more quality photos
you have
the better
Our data shows that better quality photos attract more views and potential buyers. Buyers want to see as much as possible of any potential new purchase so the more photos you provide from more angles the better. There is no limit on the number of photos you can include with your ad, so make sure you give sellers a really good look at your car via lots of pics. For more detailed advice on what photos to use, check out our article on how to choose the right photos for your ad.

Why not upload a video to your ad
You can now enhance your ad by uploading a short 1 minute video to it. Exclusive to Standard, Premium and Ultimate ads, videos can provide information that is sometimes challenging to show in photos. Whether you'd like to tell a story, pitch your sale or simply describe your vehicles condition, a short video may be the perfect addition to your ad. We have more information as well as best practice on video here.

Make sure you're selling at a good price
There are a few ways to see if you've priced your car well for the market. Our PriceAssist tool will help give you a good guide on how your car compares to similar sold. You can also run a quick search on carsales to see what prices your competitors are selling similar cars at. If you've priced too high, you may limit your potential market.

Add some more information to your S
eller's
C
omments
Just like the photos, potential buyers want to know and see as much as they can about your car before they decide to get in contact with you. We recommend including a few key dot points in your seller's comments that will best showcase your vehicle such as; where it's kept, does it have a full service history, is it serviced regularly, do pets ride in it often etc

Share your ad on
your personal
social media
channels
Get more exposure by sharing your ad with friends on Facebook, Instagram or Twitter to help your ad get seen by even more buyers. You never know who might be in the market to buy a new car.

Order a
carsales
For Sale sticker
for your window
A carsales For Sale sticker is an easy and effective way of advertising your car while it's on the road. Place the sticker it in the lower left-hand side of your back window for maximum exposure and minimum impact on driving visibility.

Still no luck? 
Try upgrading your listing to an Ultimate ad. Ultimate ads appear highest in search results and allow you to be on top of your category for 30 days. You can find out more about the different ad levels available on carsales here.

Related articles: