If you're looking to buy a used car, we recommend purchasing a carsales Facts+ history report to ensure you get all the facts and information about the vehicle's past before you drive it into your future.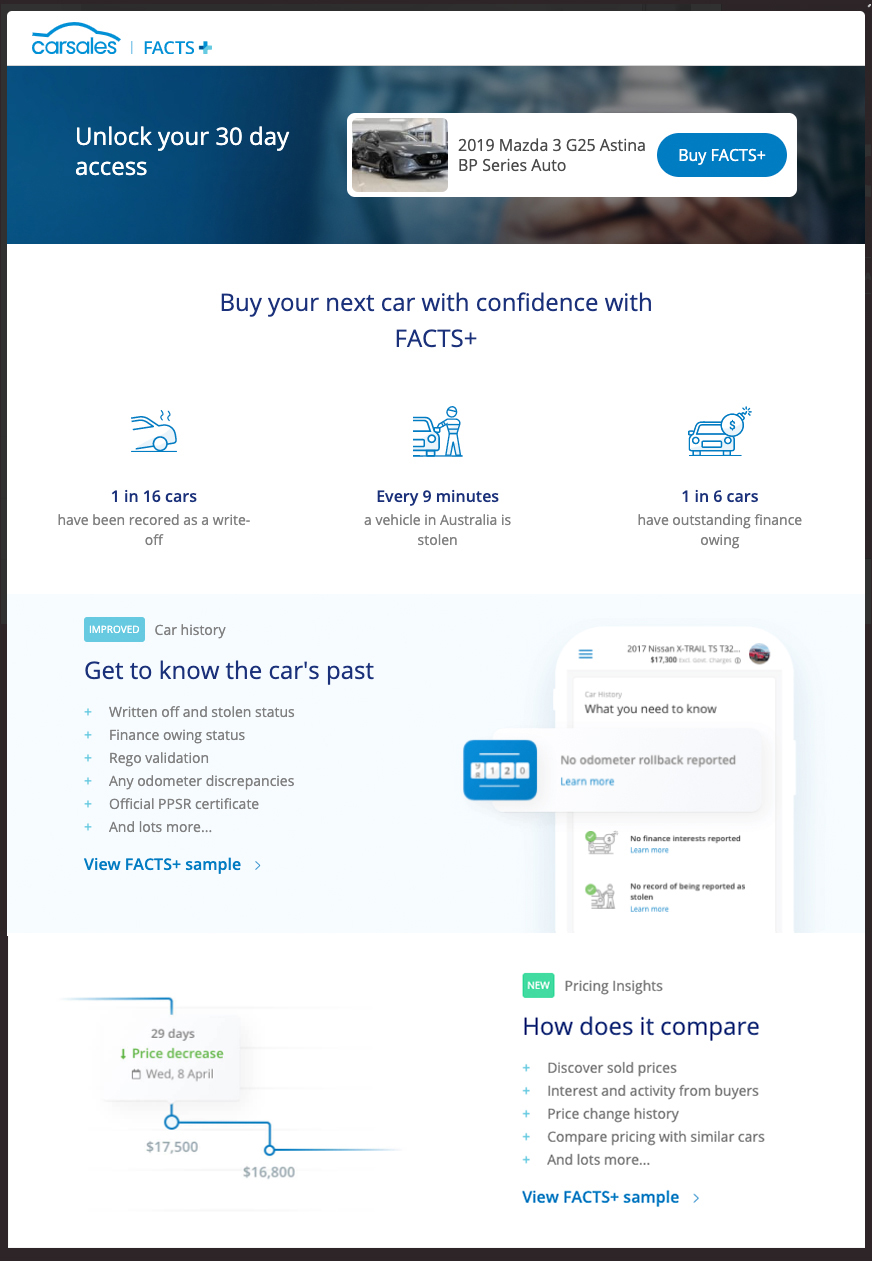 A carsales Facts+ History Report is a comprehensive document outlining a used car's history and gives you the confidence and peace of mind to make what can be a very stressful and difficult process a lot easier and safer. All carsales Facts+ History Reports contain a Personal Property Securities Register (PPSR) certificate and, depending on the information returned, will also show:


I

f there is finance and

money owing on the

car

I

f the car has ever been written off or stolen

I

f there are any odometer discrepancies (possible rollback)

C

ar identification

C

ar description

Market Comparison

R

egistration details

G

reen star rating

ANCAP / Safety rating




carsales Facts+ works closely with the Personal Property Securities Register (PPSR) to provide car buyers with detailed history reports for any Australian used car with a VIN. Simply enter the VIN of a used vehicle and you will have a carsales Facts+ History Report emailed to you within 15 minutes.


It's important to note that an odometer check is not always possible on every Facts+ report. Facts+ obtains odometer records from multiple sources and while records are present on most vehicle checks, this may not always be possible. A history check can only be performed on vehicles built AFTER 1989. Unfortunately, PPSR and Facts+ cannot provide data on any vehicles built prior to that year.


While a Facts+ reports can be helpful and beneficial when buying a used car, we also recommend buyers check the vehicle's service log books and speak directly with the seller before going through with the purchase.


Get a carsales Facts+ Vehihttp://carsales.com.au/factscle History Report today

Related articles:
How do I check the history of a car?
Should I purchase a RedBook Inspection?