The carsales Network takes the quality of advertisements on its websites very seriously.
If you notice that an advert seems to be wrong in any way, including:
The details of the car don't seem to match the car pictured;
The seller is giving misleading information e.g. about the price of the vehicle;
The seller is not the owner of the vehicle; or
The content in the seller's advert infringes your intellectual property rights e.g. copyright;
you can report the vehicle to our administration team, in order to have them review the advert.
In some cases, the advert will be removed. If so, we'll work with the seller to ensure that the advert meets our standards before it is reposted.
You can report a vehicle by following the below steps (for Desktop Computers):
 1. On the advertisement in question, scroll to the bottom of the webpage. On the left side of the   social media icons used to share the advertisement, you will see a piece of text next to a         stylized exclamation mark that says "Report this ad." Please press this button.

2. A pop up box will appear on your screen requesting that you fill out details of the report. . These fields are mainly free-text and none of the fields are compulsory, so you don't have to fill out any personal information if you don't want to (however, we won't then be able to keep you informed).
Please add as much detail in the comments field about the nature of your report as you possibly can, as this will help our staff in their review of the advertisement.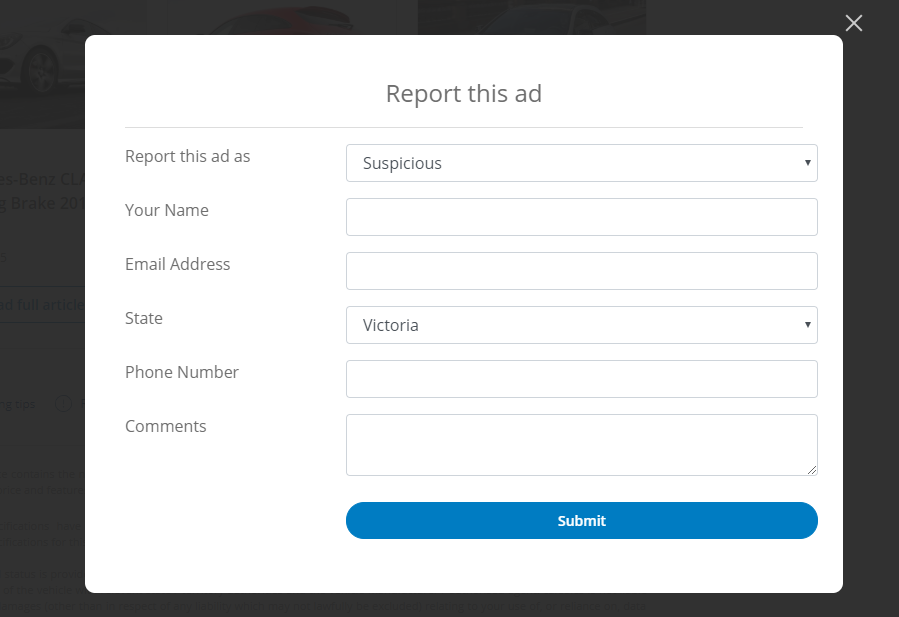 3. Hit the submit button, and your report will be passed on to our staff who will review the advertisement in question for any issues.
4. Done! Thank you for helping us maintain high standards on the carsales Network.
To report an ad on the mobile app, the steps are very similar. The 'Report this ad' button will be in bold blue type located at the bottom of the ad.