Firstly, make sure you are signed in to your carsales account.
SAVED SEARCHES & EMAIL ALERTS
To delete a saved search, navigate to your Saved searches page. Click the rubbish bin icon next to the relevant search to remove it. You can also toggle email and app alerts from this page.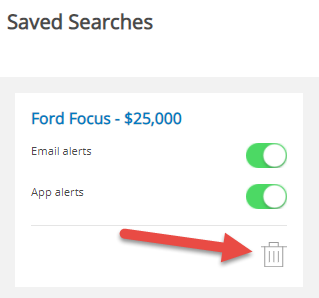 SAVED CARS
To remove a car that you've saved, head to your Saved Cars page. Click the heart icon located below the car's photo on each saved car tile. This will unsave the listing and it will be removed from your list after refreshing the page.